Avery Write On Dividers for Binders
Submitted by Anne-Sophie on Thu, 2011-11-24 22:21.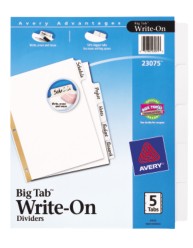 Many years ago, I discovered this product.
I had a lot of letter size paperwork to sort out. Many important projects had to be portable, organized and nice looking. And I was on a budget.
The Tabs were great performers on the spot. I used a mechanical pencil to write the title on each tabs, it didn't smudge. Despite lots of handling, the tabs corners stayed intact.
Over the years, Avery has expended this very dependable line of letter size dividers by offering color coded laminated write-on tabs then plastic, rounded corner write on tabs. The entire line can be found here
I remember the plastic rounded corner write on tabs catching my eyes a while ago, but I do not remember if I added them to my stationary stash or not. But, this year, while searching for 5.5 x 8.5 Plastic Dividers, I found these and these.
The second tab dividers also exist in the Retro Circles pattern in a orange and lime theme color. All are 7 holes punched for easy fit in most half letter size ring binders or organizers.
The Multicolor set is very light has the durability of hard plastic, yet is not stiff. The tabs' corners are gently rounded making them easy to hold and turn. The very soft and semi-translucent colors are: pastel blue, ice grayish white (very elegant), pastel green, pastel yellow (somewhat see-threw) and the loveliest of ice cornflower purplish blue (somewhat see-threw as well). I got my set at Office Max.
The Spring Leave Design dividers take their names from the pattern in the front of each divider. There are two mauve dividers, two pastel pink and a light sea blue one in the middle. The patterns have contrasting colors on each divider, which might explain why they are in the high $5 range, in contrast to the plain dividers, in the $3 range.
They are well worth the price and the trip I made to the next town to the only place I could find them. The only Franklin Covey retailer in my state. I cleaned up their stock of the product on display (4 sets).
The Spring Leaf set is a must have for anyone who loves pink and purple; the Translucent set is an affordable, fun and professional looking tool.
In my enthusiasm, I forgot to say that I am not affiliated with Avery in any ways.